Widespread Media Panic!
as Census Bureau Reports
only

2.5 million

more people in the country this year than last.



Yes! Those are empty cribs! No wonder the panic!
HuffPost says: "Population growth has hovered at super-low levels for the past few years, according to William Frey, a senior fellow at the Brookings Institution, a nonpartisan research organization."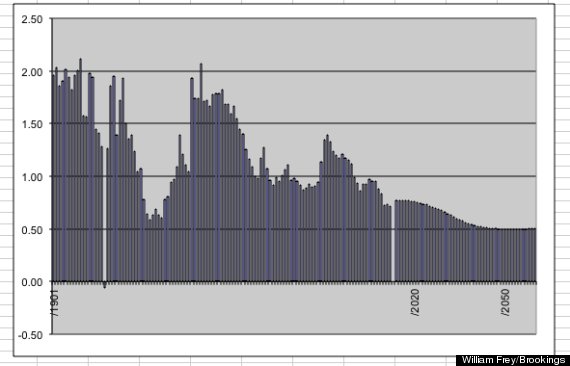 Frey's helpful graphic makes it clear that our population may even be decreasing!
(Only it's not, of course: it's only the

rate

which is down.
And a large part of that is a 'projection'.)

Meanwhile, the Wall Street Journal declares:
That's right, over 2.5 million new residents is "a snail's pace"

That's... roughly a new Chicago shoehorned into the nation every 12 months.



320 Million Americans now--40 million in California alone.





Now here's why the story is noteworthy: As you see above,




Right and Left are

united

in this panic.


Why would that be?

Because we need more cheap labor to hold down worker pay?
Because we need more victims for the Ponzi Scheme known as Social Security?
What say you?